Thursday, December 30, 2004
Lamentations

See his face,
how gently he lays down
the cold and lifeless body
of his son,
snatched away from him
by the dark and angry water
that rose up
so unexpectedly
to come crashing down
to shatter
the world.
Grief.
How the lamentation rises to heaven.
Like so many others
before her and after,
she held the lifeless body of her son,
bereft,
battered,
beaten,
misused in a way
that had no earthly justice.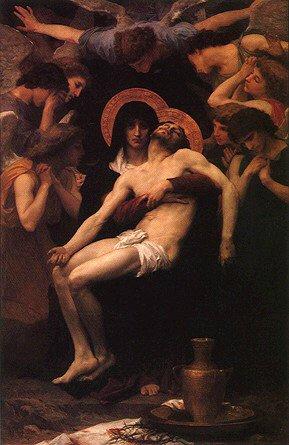 O Mary,
you too know the tears
of a parent unable to stop
death's cold hand from taking your child
by the wave of events
that rose up so quickly,
and came down crashing
to shatter your world.
As you remember that dark moment,
O Mother of Sorrows,
cover these your children
with the mantle of your love.
Pray for us,
Mother of Sorrow,
Mother of Consolation
now and at the hour of our deaths.
Amen.
Susan E. Stone, 2004
Walking With Job
Of old thou didst lay the foundation of the earth,
and the heavens are the work of thy hands.
They will perish, but thou dost endure;
they will all wear out like a garment.
Thou changest them like raiment, and they pass away;
but thou art the same, and thy years have no end.
(Psalm 102: 25-27)
O Lord,
now the anger begins
as people shake their fists
and say,
"If you love us,
how could you do this to us,
put us in a world
where terror happens,
put us in a world
where disaster
rips out our hearts,
steals our love,
empties our lives?"
How we long to blame
when hurt,
how we long to kill
the very thing
which stole our joy,
our lives,
our security,
and yet,
how does one take revenge
on the shaking earth,
or sue the wall of water
that crashed down
in its destruction?
Help us, Lord,
you, who have also been through
the grieving process,
as the Son, betrayed,
beaten,
murdered,
who saw friends and loved ones die,
who knew all those things
life brings that makes us want to rage,
strike out,
hit back.
O Lord, you the Father,
who saw what this world did to your son,
who saw the rejection,
who saw the murder,
and yet,
for love refused to strike.
O Lord, you the Spirit,
you who moved upon the face of the deep,
you who quickened and brought life,
who filled the hearts of those who would listen,
how often did you see
the message rejected,
the concept misunderstood,
the word twisted into personal agendas,
and yet you keep breathing your word
of hope and love
even in the midst of sorrow
and anguish,
and despair.
O Lord, you know our pain!
How often have your arms wrapped around us,
when we, like Job,
beat our anger against your chest,
until at last,
anger spent,
we come to see
that we do not have the answers,
except that the world turns,
and the sun rises,
and we are much smaller than the universe,
and we are not God.
O Lord,
in our smallness,
and anger,
and grief,
remind us that
You have given us the gift to grow,
and to choose,
and to accept or reject.
Help us choose the light,
even when it hurts, and blinds our eyes.
Help us choose to grow,
even when the growth comes after great pain.
Help us choose to love.
Susan E. Stone, 2004
Wednesday, December 29, 2004
O Lord
how heavy the nightmare grows
for those who look
at endless rows of photographs,
fearing to find
that certain face,
fearing not to know
what happened to their child,
their spouse,
their parent,
their beloved,
their life.

O Lord,
strengthen our hands,
those of our grieving brothers,
and we who have the means to help.
Soften our hearts,
so we may aid our weeping sisters,
stumbling across the ruins of their old life.

O Lord,
be also with those
racing to help,
to care for the dead,
to save the living,
to shelter the homeless,
to feed the hungry.

Teach us Lord
that our brother is the one we see hurting,
that our neighbor is the person in need,
and the boundaries we build
are not of you,
but of the darkness.

In this time of grief,
send us your light!

Amen.

Susan E. Stone, 2004


Tuesday, December 28, 2004
O Lord,
the enormity of it all
is beyond me,
and yet,
when I look close,
one life shattered forever
as a father mourns
lifting up the lifeless body
of his small son,
unburied in the rubble,
crying out in his loss and his pain.

O Lord,
how many times
that grief has been repeated this week,
among the charnel house odors,
the stench of rot
as the searchers
hope against hope,
buoyed along by fear
and need
and desparation.

How many will curse you,
angry at the hand of fate,
angry at an enemy they cannot strike,
the uneasy earth,
the ocean swelling with death,
the rulers
who could not protect them
the luck
that turned black and evil
on a beautiful sunny day.

O Lord,
out of our anger, hurt, grief,
teach us to know
the things that really matter,
the truths that really heal,
the road we really should take,
and help us
avoid the endless darkness
of anger,
and hate
and hopelessness.

Amen.

Susan E. Stone, 2004

Monday, December 27, 2004
Prayer for those in Grief and Need

There are times, Lord,
where the darkness
feels so overwhelming
that it seems like
we are in a thick fog,
even though the sun may be shining,
walking each step
through some thick liquid,
feeling our heart pound
and our mouth go dry
as the moments stretch out forever.

I know you understand it,
as you walked that long last walk
to give all for love.

Help us who are in that place
find rest,
help,
the hand that makes
getting through all this possible.

Where there needs to be shelter, Lord,
open the hearts of those who have shelter to give,
where there needs to be food,
help those who long to be liberal
to find their outlet.
Where there needs to be a shoulder to cry on,
let that shoulder appear.

O Lord,
help those of us
so far away from the hurt and the pain
realize the ways we too can help,
and help all of us see
that these are not strangers,
enemies,
unfriends,
of no matter,
but children you hold precious,
and by helping them,
it is as if we help you.

Open our eyes,
everywhere,
what it is that really matters,
this day,
and always,
Amen.

Susan E. Stone, 2004

Sunday, December 26, 2004
Praying for the Earthquake Victims
Thus says the LORD: "Cursed is the man who trusts in
man and makes flesh his arm, whose heart turns away
from the LORD. He is like a shrub in the desert, and
shall not see any good come. He shall dwell in the
parched places of the wilderness, in an uninhabited
salt land.
"Blessed is the man who trusts in the LORD, whose
trust is the LORD. He is like a tree planted by water,
that sends out its roots by the stream, and does not
fear when heat comes, for its leaves remain green, and
is not anxious in the year of drought, for it does not
cease to bear fruit." - Jeremiah 17:5-8
Lord, hear our cry,
for our brothers and sisters
ripped from this life
by the hand of a power
bigger than theirs,
when earth shook
and land quaked
and water roared.
Lord, hear our cry,
for our brothers and sisters,
the lamentation
of those who survived,
frightened,
bewildered,
bereft,
looking for news
of their missing,
searching the rubble
for a scrap
of what was once their life.
O Lord,
forgive us for thinking
that we are in control,
that we have the power,
that we are the masters,
and help us learn
what is truly important,
that when one of us hurts,
we are all lessened,
that life is a gift,
precious,
to be cherished,
and that in the end,
whatever we do,
we will return the gift of life
we were given.
O Lord,
may we learn in the time we have left
to act justly, love mercy,
and walk humbly with you,
this day and always.
Amen.
Susan E. Stone, 2004